One bowl, healthy, pumpkin spice protein muffins full of pumpkin spice and everything nice. These muffins are a delicious and nutritious treat that can help keep you energized throughout the day. 
Makes 6 (can double the recipe for 12).
Ingredients:
1/4 cup Earth Fed Muscle - Witches Whey protein power
1/2 cup + 1-2 tablespoons Gluten Free all purpose baking flour
1/2 teaspoon

 

baking soda
1 teaspoons

 

ground cinnamon
1/4 teaspoon

 

kosher salt
1 teaspoon ground pumpkin pie spice
1/4 teaspoon ground nutmeg
1/2 - 3/4 cup pumpkin
1 organic pasture raised eggs
2 tablespoons honey
2 tablespoons avocado oil (can use coconut oil, just make sure any oil used is room temperature!)
Dash teaspoons pure vanilla extract
For the frosting, I just blended 1/2 cottage cheese with 1/4 cup Earth Fed Muscle - Witches Whey protein power + 2 tablespoons of organic coconut flour. I added in a few dashes of raw, grass-fed milk for consistency.
*When Witches Whey is sold out, sub in Whey Back Vanilla Grass-Fed Protein!
Regular price $59.99

Sale price $59.99 Regular price $59.99

Unit price / per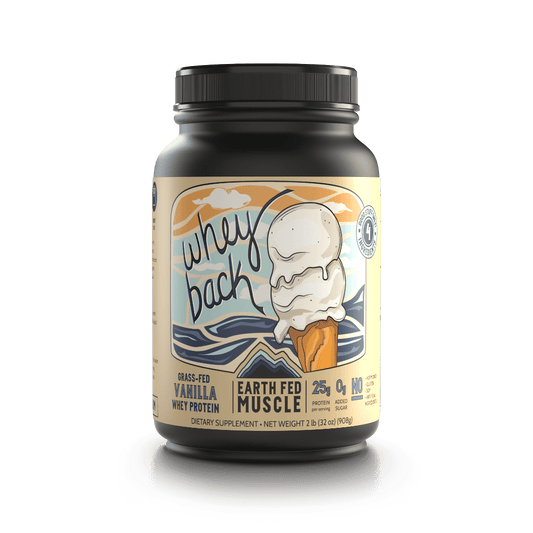 Directions:
Preheat the oven to 375 degrees. Mist the cups of a standard 6-cup muffin tin with cooking spray OR line with reusable muffin cups.
In a large bowl, combine the dry goods (flour, protein powder, spices, baking soda, and salt). Toss to combine.
Next, add in the wet goods (pumpkin puree, eggs, oil, maple syrup, and vanilla extract); mix well with the dry ingredients. Start by folding them into one another, then can be a little more aggressive with the stirring.
Divide the batter among the 6 cups in the muffin tin (fill to about the rim). Smooth the batter slightly in each muffin cup with the back of a spoon or with a rubber spatula.
Bake for 20-22 minutes. Remove from the oven and let cool a few minutes in the muffin tin before transferring to a wire rack to cool completely.
Sale price
$64.99
Regular price
$64.99
Unit price
per
Macros (note: high in vitamin A and iron)
Without Frosting: 150 kCal, 6.6g protein, 17g carbs (2g fiber), 5.5g fat
With Frosting: 192 kCal, 13.8g protein, 18.4g carbs (3g fiber), 6.5g fat
This recipe is from EFM Partner Katie Leonard. You can follow Katie on IG here. You can follow Katie on TikTok here.