These no-bake Pumpkin Protein Truffles are the perfect quick treat to throw together for the next time you want something sweet. How can you go wrong when you have chocolate and pumpkin mixed together? 
Ingredients:
2 scoops Earth Fed Muscle Witch's Whey
1/2 cup oat flour
1/2 cup coconut flour
1/4 cup Monk Fruit Sweetener
1/2 cup organic canned pumpkin
1/4 cup plain nonfat Greek yogurt
1/4 cup unsweetened almond milk
1/2 cup dark chocolate chips
Sale price
$64.99
Regular price
Unit price
per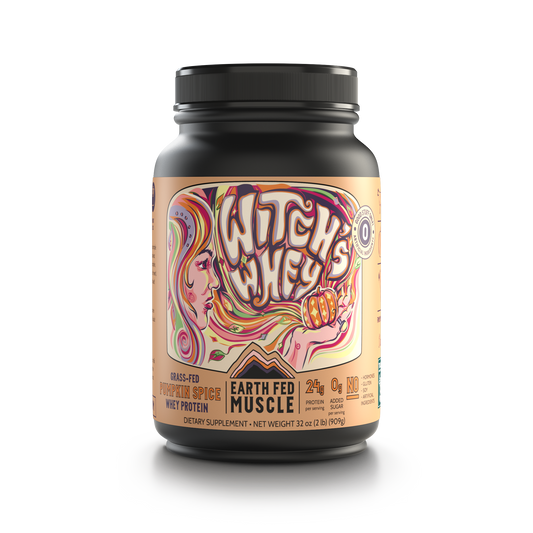 Instructions:
In a large bowl, blend the protein powder, oat flour, coconut flour and Monk Fruit Sweetener.
Then add in all the wet ingredients (plain nonfat Greek yogurt, unsweetened almond milk and canned pumpkin) until it forms a light, fluffy consistency. 
On a sheet of parchment paper on a baking sheet, roll the blended mix into quarter-sized balls (it should make about 12).
Place the baking sheet in the freezer for a half hour or so to harden.
In a small bowl, melt the dark chocolate chips. 
Once the pumpkin balls are hard, take them out of the freezer and dip them in the melted chocolate.
Place them in the refrigerator and serve when needed!
Macros/per serving (12 servings): 103 calories, 4g fat, 11.4g carbs, 5.9g protein