We didn't do macros for this one because, well, it is still a cake. What we did do is add in some unflavored grass-fed whey to for sure increase the protein content. Adding some Truly Buff will not change the texture of the cake, but it will have you enjoying it knowing you're getting some protein for your muscles while you get some amazing cake for your heart.
Ingredients:
3 C. flour
2 scoops Truly Buff Unflavored Grass-Fed Whey
1 T. baking powder
1 T. salt
2 C sugar
6 eggs, room temperature
1 C. milk, room temperature
2 C. heavy cream
1 12-oz can nonfat evaporated milk
1 14-oz can sweetened condensed milk
3 t. vanilla extract
ground cinnamon
strawberries and mint for topping
whipped cream for topping (we used sugar free whipped topping) or you can make your own with heavy cream!
Regular price $59.99

Sale price $59.99 Regular price

Unit price / per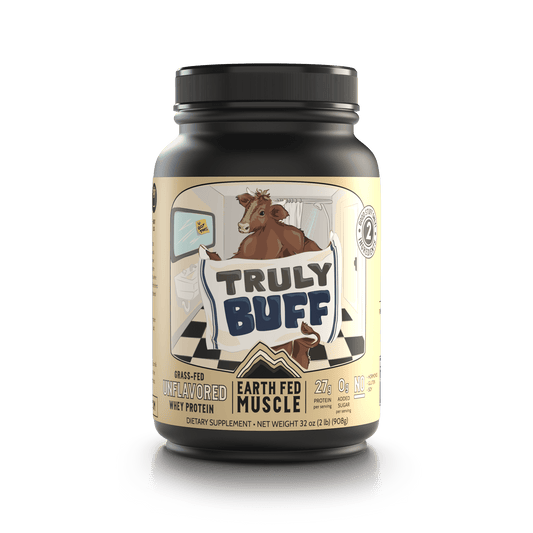 Directions:
Preheat the oven to 350 degrees.
In a bowl, whisk together flour, baking powder, salt, and Truly Buff Unflavored Grass-Fed Whey. Set aside.
Beat the eggs and sugar on medium-high speed until light and fluffy (7-8 minutes).
Add 2 t. of vanilla to room temperature milk.
Continuously mixing on low speed, add half of the flour mixture, then the milk/vanilla mixture, followed by the remaining flour mixture. Mix just until combined.
Pour batter into greased 9 x 13 pan and bake for 28-30 minutes or until tester in the center comes out clean.
Let cake cool for at least one hour. (Must be completely cool.)
Mix together heavy cream, evaporated milk, and 1 t. cinnamon. Bring to a boil and then simmer for 5 minutes. Set aside to cool.
Poke holes across entire cake.
Whisk sweetened condensed milk and 1 t. vanilla extract into milk mixture and pour mixture over cake.
Cover and refrigerate cake overnight.
Top with whipped cream, cinnamon, strawberries, and mint to serve.